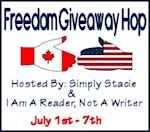 Welcome to the Freedom Giveaway Hop hosted by my book review site I Am A Reader, Not A Writer & Simply Stacie.
I absolutely adore Marcia & her books and am excited for the lucky winner who will have the chance to read one of her newly rereleased books.
Up for giveaway is a copy of Sudden Storms by Marcia Lynn McClure.
Rivers Brighton was a wanderer-having nothing and belonging to no one. Still, by chance, Rivers found herself harboring for a time beneath the roof of the kind-hearted Jolee Gray and her remarkably attractive yet ever-grumbling brother, Paxton. Jolee had taken Rivers in, and Rivers had stayed. Helplessly drawn to Paxton's alluring presence and unable to escape his astonishing hold over her, however, Rivers knew she was in danger of enduring great heartbreak and pain. Paxton appeared to find Rivers no more interesting than a brief cloudburst. Yet the man's spirit seemed to tether some great and devastating storm-a powerful tempest bridled within, waiting for the moment when it could rage full and free, perhaps destroying everything and everyone in its wake-particularly Rivers. Could Rivers capture Paxton's attention long enough to make his heart her own? Or would the storm brewing within him destroy her hopes and dreams of belonging to the only man she had ever loved?
To Enter:
Become a GFC follower of this blog then fill out the Form below
Optional Extra Entries:
+1 Sign Up to recieve Marcia's Newsletter
+1 Friend Marcia on Facebook
+1 Fan or Friend Marcia on Goodreads
Loading…
Over 200 blogs are each hosting a giveaway from July 1st to 7th. Hop to another giveaway on the list to enter.

First my apologies for this announcement being made so late! I absolutely adore Marcia & her books and feel terrible that when life got crazy when my son got sick running this blog fell off my priority list. With doctors appointments and the endless research & reading I've been doing I had little time for my family blog or my book review blog I Am A Reader, Not A Writer and no time for anything extra. But now that things are better I'm hoping to have more time to devote to this site!
Congratulations to tercanbrack
Random.org picked her name as our winner in the Fool For Books Giveaway.
A copy of The Time of Aspen Falls is headed your way.
Thanks to all who entered!