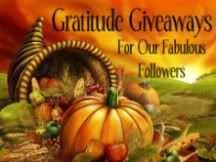 Welcome to the Gratitude Giveaway Hop!
We have a great giveaway for you here on the Marcia Lynn McClure Fansite.
First a little about author Marcia Lynn McClure:
Originally from Albuquerque, New Mexico, Marcia Lynn McClure grew up influenced by the reminiscent stories of rugged, rural Colorado farm life fascinatingly recounted to her by her parents, grandparents, uncles and aunts… tales of runaway buckboards, mule-drawn plows and dust pneumonia; verbalized images of stream-flooded meadows, frozen over in winter, where a child could peer through the crystal clear ice in wonder at the small fish, snakes and mice sealed in the meadow grasses beneath; stories of hardship and tragedy, love and loss. But always the stories, and the people telling them, bore evidence of the wonder and worthiness of simpler, yet sometimes brutal, times.
These influential people and the family legends they detailed, coupled with her own life experiences and utterly romantic nature, led Marcia to begin writing novels as Christmas gifts for her closest friends…friends who long for a breath of the past and miss the romance of bygone eras; friends searching for moments of distraction from the stressful, demanding times we live in. And so, knowing that it is the breath of the past and the "take me in you arms and kiss me" kind of moments that so many women long to relive, Marcia spins her tales of love, life and laughter . . . adventures woven around those compelling, romantic instances that most appeal to a woman's loving heart. Marcia feels that if her readers close one of her books with a contented sigh and a delighted smile, feeling rejuvenated, cheerful and edified, then she has achieved what she set out to do shower refreshment and happiness on anyone having experienced the story.
Her books are known for being old-fashioned romantic instead of being explicit.
What kind of response has Marcia seen to taking this approach?
Marcia: I have seen exactly the kind of response that I hoped for…that I was certain existed; Elation from readers who were looking for just the sort of books I write–incredibly romantic and yet safe! Something to share with your teenage daughter or your mother or your best friends! People (especially women) need moments of escape…distraction that leaves them feeling happy, positive, uplifted. That's what I always look for in reading material…so, that's what I write! Those who work in the industry seem surprised at my success. It's hard for me to imagine that so few people think a book in this genre can succeed without explicit intimacy content. But it can!
Whether you are a long time Marcia Lynn McClure fan or just stumbling upon her books for the first time, here is your chance to win 2 of her books! Beneath the Honeysuckle Vine AND The Whispered Kiss.
Civil War-no one could flee from the nightmare of battle and the countless lives it devoured. Everyone had sacrificed-suffered profound misery and unimaginable loss. Vivianna Bartholomew was no exception. The war had torn her from her home-orphaned her. The merciless war seemed to take everything-even the man she loved. Still, Vivianna yet knew gratitude-for a kind friend had taken her in upon the death of her parents. Thus, she was cared for-even loved. Yet, as General Lee surrendered signaling the war's imminent end-as Vivianna remained with the remnants of the Turner family-her soul clung to the letters written by her lost soldier-to his memory written in her heart. Could a woman ever heal from the loss of such a love? Could a woman's heart forget that it may find another? Vivianna Bartholomew thought not. Still, it is often in the world that miracles occur-that love endures even after hope has been abandoned. Thus, one balmy Alabama morning-as two ragged soldiers wound the road toward the Turner house-Vivianna began to know-to know that miracles do exist-that love is never truly lost.
With the sea at its side, the beautiful township of Bostchelan was home to many-including the lovely Coquette de Bellamont, her three sisters, and beloved father. In Bostchelan, Coquette knew happiness, and as much contentment as a young woman whose heart had been broken years before could know. Thus, Coquette dwelt in gladness until the day her father returned from his travels with an astonishing tale to tell.
Antoine de Bellamont returned from his travels by way of Roanan bearing a tale of such great adventure to hardly be believed. Further, at the center of Antoine's story loomed a man-the dark Lord of Roanan. Known for his cruel nature, heartlessness, and tendency to violence, the Lord of Roanan had accused Antoine de Bellamont of wrong doing and demanded recompense. Antoine had promised recompense would be paid-with the hand of his youngest daughter in marriage.
Thus, Coquette found herself lost-thrust onto a dark journey of her own. This journey would find her carried away to Roanan Manor-delivered into the hands of the dark and mysterious Lord of Roanan who dominated it.
Giveaway Details: Giveaway open to those who are over 13 and have a US mailing address.
Giveaway ends at 11:59 P.M. on Sunday, November 28th.
To Enter: Become a GFC follower of this blog then fill out the Form below.
Optional Extra Entries:
+1 Sign Up to recieve Marcia's Newsletter
+1 Friend Marcia on Facebook
+1 Fan or Friend Marcia on Goodreads
THIS GIVEAWAY IS NOW CLOSED
Comments are appreciated but to enter you must fill out this form:
Gratitude Giveaways is hosted by Kathy @ I Am A Reader, Not A Writer. This is a giveaway hop that runs from Wednesday, November 17th to Sunday, November 28th. Stop by each blog during those days to enter all the fantastic giveaways.
Here are all the participating blogs: