Archive for the 'Uncategorized' Category
Excerpt from The Chimney Sweep Charm by Marcia Lynn McClure:
"There was the muffled sound of audience members standing up, and Baylee and Candice turned to look behind them.
"Holy smokes!" Baylee breathed.
"It's like a Navy SEAL convention or something," Candice added.
And it was! Baylee couldn't believe that over twenty-five of the people in the orientation audience were tall, dark, handsome, buff guys dressed all in black. Each man stood with his feet apart and hands held at his back—similar if not exactly like a military "at ease" stance.
"They're all packing heat too," Baylee whispered to Candice as she noted all the holstered sidearms.
"I guess Mr. O'Sullivan wants to be prepared," Candice said.
"I suppose you girls are all wowed now, right?" Tate said from the front row.
"Let's see," Candice began, looking to Tate and feigning an expression of thoughtfulness. "Let's say I'm being assaulted by some weirdo in street…and who am I going to look to for protection? One of these guys?" she said, nodding toward the security staff. "Or you, Tate? You…who freaked out in June when we were in New York and you thought some guy was looking at you funny. You freaked out and slammed Megan's finger in the door and cut it off! Who do you think I'm going to trust?"
"It was an accident, and you know it," Tate grumbled.
Baylee did know it. Still, she found her eyes glancing down the row of chairs in front of her to Megan—to the missing first joint and fingertip on her right hand.
"Yeah, it was," Candice admitted. "But you still cared more about yourself than Megan. The guy was stalking Megan…not you. Real heroic, Tate. Way to go to instilling a sense of confidence in me that you would have my back."
"Whatever," Tate grumbled, turning around in his seat to pout."
Marcia is releasing a new Holiday Romance!!
The printed softcover version is now available to order and will ship in December.  The ebook will be available starting on Thanksgiving day!!
Visit Marcia's site to order:
The Gratitude Giveaway Hop is a way to thank our followers. This is a quick and easy single entry hop with 300 blogs participating so you have the chance to win some great prizes.
I'm grateful for Marcia Lynn McClure and the fabulous books she writes. Today I'm pleased to have a signed copy of A Crimson Frost to giveaway. For any one who enjoys a good clean romance this is for you!
A Crimson Frost by Marcia Lynn McClure
Beloved of her father, King Dacian, and adored by her people, the Scarlet Princess Monet endeavored to serve her kingdom well-for the people of the Kingdom of Karvana were good, and worthy of service. Long Monet had known that even her marriage would serve her people. Her husband would be chosen for her-for this was the way of royal existence.
Still, as any woman does-peasant or princess-Monet dreamt of owning true love-of owning choice in love. Thus, each time the raven-haired, sapphire-eyed, Crimson Knight of Karvana rode near-Monet knew regret-for in secret, she loved him-and she could not choose him.
As an arrogant king from another kingdom began to wage war against Karvana, Karvana's king, knights and soldiers answered the challenge. The Princess Monet would also know battle. As the Crimson Knight battled with armor and blade-so the Scarlet Princess would battle in sacrifice and with secrets held. Thus, when the charge was given to preserve the heart of Karvana-Monet endeavored to serve her kingdom and forget her secreted love. Yet, love is not so easily forgotten.
Giveaway Details:
Open to US only
Ends 11/27/11
To enter just follow this blog and fill out the form.
Now hop to another blog on the list to enter their giveaway.


November "Gobble 'em Up" Print Book Sale!
Now through November 18th only, order as many of the eligible print books as you need for gifts (or your own collection) at incredible savings!
Ordering now ensures plenty of delivery time for Christmas gift giving.
Gobble Up Marcia Lynn McClure books, and save big!
This sale's prices reflect a savings of $3.00 off (or sometimes more) the official retail price of eligible books!
So don't wait…Gobble Gobble Marcia Lynn McClure romance…and without the payback weight gain of Thanksgiving Dinner!
To order books visit: http://distractionsink.com/
The breathtaking romantic sequel to The Visions of Ransom Lake….

The Haunting of Autumn Lake by Marcia Lynn McClure
Excerpt:

Autumn Lake stopped cold in her tracks. She puffed a breath of summoning courage as she gazed at the old covered bridge before her. Ever since she was a child and Sawyer had read to her the fascinating yet thoroughly haunting story of The Legend of Sleepy Hollow by Mr. Washington Irving, Autumn had secreted a fear of bridges. Each time she was meant to cross a bridge (especially the old covered bridge on the far side of the orchards), she expected the ghostly headless horseman to appear and attempt to decapitate her. Oh, certainly the tale of the Specter did nothing to soothe her either, for it was said that this was to be a year of the Specter. As the story went, the local phantom, the Specter, only appeared once every ten years—but this was to be the year of the Specter, and Autumn did not like crossing bridges even when it was not a year of the Specter.

Gulping down her fear, however, Autumn glanced behind her, assuring herself that there was no headless horseman riding up behind her intent on stealing her head.

"He wouldn't want a woman's head anyway," she mumbled to herself, even as rising fear caused her heart to pound in her chest. "And besides," she said, looking back to the old bridge, "I'm eighteen years old…nineteen in less than a month. Surely I can cross the bridge without runnin'."

Pulling her sketchbook to her chest and tightly folding her arms across it, she spoke aloud to the cattails. "Wish me luck, my darlings…for I do prefer to keep my head attached to the rest of me."

As Autumn stepped onto the bridge, the roof blocked the warm sunshine, making the space inside the bridge dark and gloomy. Yet she'd expected this. What else would one expect of a covered bridge? After all, its very purpose was protection from the elements, and that included the heat of the summer sun. Naturally, Autumn preferred to think of its purpose as being made for something else—the seclusion necessary for the romance of lovers' trysts.

She sighed with disenchantment for a moment—disappointment at never having had a lover of her own. She thought how different it would be to cross the old bridge if her arm were linked to that of a strong and handsome lover. Still, she had no lover, and the fact remained that she must indeed cross the bridge.
The e-book edition of The Haunting of Autumn Lake is now available to download to your Kindle, Nook or other electronic reading device! Click here to download The Haunting of Autumn Lake now and begin escape into beautiful autumn romance within moments!
Also, don't forget to visit www.marcialynnmcclure.com or Click here to order the softcover printed editions of The Visions of Ransom Lake and its enchanting sequel The Haunting of Autumn Lake for your tangible bookshelf as well (if you haven't already)! Everyone knows you can never have enough of Handsome Ransoms around!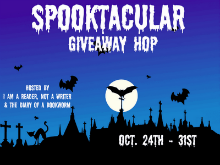 Welcome to the Spooktacular Giveaway Hop!
Giveaway: Divine Deception by Marcia Lynn McClure

Mistreated, disheartened, and trapped, Fallon Ashby unexpectedly found the chance of swift deliverance at the hand of a wealthy landowner. The mysterious deliverer offered Fallon escape from unendurable circumstances. Thus, Fallon chose to marry Trader Donavon, a man who concealed his face within the dark shadows of an ominous black hood—a man who unknowingly held her heart captive.
Yet malicious villainy, intent on destroying Trader Donavon, set out to defeat him. Would evil succeed in overpowering the man whose face Fallon had never seen? The ever-hooded hero Fallon silently loved above all else?
Giveaway Open to US only
Ends 10/31/11
To enter please fill out the Rafflecopter Form
Now hop to another blog on the list!

Welcome to the Summer Giveaway Hop hosted by my book review site I Am A Reader, Not A Writer & co-hosted by Mary from Bookhounds.
I am excited for the lucky winner who will have the chance to read one of Marcia's books.  I adore Marcia and her books are some of my all time favorites!
Up for giveaway is a copy of  the very first Marcia Lynn McClure book I ever read An Old-Fashioned Romance

Life went along simply, if not rather monotonously, for Breck McCall. Her job was satisfying, she had true friends, but she felt empty . . . as if part of her soul was detached and lost to her. She longed for something . . . something which seemed to be missing.

Yet, there were moments when Breck felt she might almost touch something wonderful. And most of those moments came while in the presence of her handsome, yet seemingly haunted boss . . . Reese Thatcher.
To Enter:
Become a GFC follower of this blog then comment on this post.
Optional Extra Entries:
+1 Sign Up to recieve Marcia's Newsletter
+1 Friend Marcia on Facebook
+1 Fan or Friend Marcia on Goodreads
All entries can be left in 1 comment.
Once you've entered this giveaway hop to another blog on the list: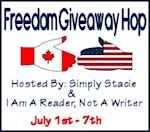 Welcome to the Freedom Giveaway Hop hosted by my book review site I Am A Reader, Not A Writer & Simply Stacie.
I absolutely adore Marcia & her books and am excited for the lucky winner who will have the chance to read one of her newly rereleased books.
Up for giveaway is a copy of Sudden Storms by Marcia Lynn McClure.
Rivers Brighton was a wanderer-having nothing and belonging to no one. Still, by chance, Rivers found herself harboring for a time beneath the roof of the kind-hearted Jolee Gray and her remarkably attractive yet ever-grumbling brother, Paxton. Jolee had taken Rivers in, and Rivers had stayed. Helplessly drawn to Paxton's alluring presence and unable to escape his astonishing hold over her, however, Rivers knew she was in danger of enduring great heartbreak and pain. Paxton appeared to find Rivers no more interesting than a brief cloudburst. Yet the man's spirit seemed to tether some great and devastating storm-a powerful tempest bridled within, waiting for the moment when it could rage full and free, perhaps destroying everything and everyone in its wake-particularly Rivers. Could Rivers capture Paxton's attention long enough to make his heart her own? Or would the storm brewing within him destroy her hopes and dreams of belonging to the only man she had ever loved?
To Enter:
Become a GFC follower of this blog then fill out the Form below
Optional Extra Entries:
+1 Sign Up to recieve Marcia's Newsletter
+1 Friend Marcia on Facebook
+1 Fan or Friend Marcia on Goodreads
Loading…
Over 200 blogs are each hosting a giveaway from July 1st to 7th. Hop to another giveaway on the list to enter.

First my apologies for this announcement being made so late! I absolutely adore Marcia & her books and feel terrible that when life got crazy when my son got sick running this blog fell off my priority list. With doctors appointments and the endless research & reading I've been doing I had little time for my family blog or my book review blog I Am A Reader, Not A Writer and no time for anything extra. But now that things are better I'm hoping to have more time to devote to this site!
Congratulations to tercanbrack
Random.org picked her name as our winner in the Fool For Books Giveaway.
A copy of The Time of Aspen Falls is headed your way.
Thanks to all who entered!